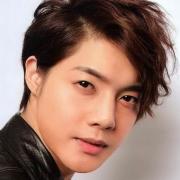 For three years, fashion and portrait photographer Richard Phibbs has donated his services to the Humane Society of New York, making portraits of dogs up for adoption as part of the Manhattan shelter's work to find them all forever homes. The best of his photographs are featured in this simple and moving album, along with the story of each dog on its journey from often-shocking circumstances of abandonment and rejection, through rescue and the joy experienced in the new homes these pictures helped them find. This heartwarming New York story will appeal to dog lovers all over the world. Phibbs's introduction is a passionate appeal for everyone to rescue a dog. The book is perfectly sized and priced for an impulse buy. Royalties from its sale benefit the Humane Society of New York. To learn more visit
About Richard Phibbs
Richard Phibbs (born in Calgary, Alberta) has shot fashion and advertising campaigns for Giorgio Armani, Ralph Lauren, and Calvin Klein. His editorial work has appeared in Vanity Fair, Vogue China, ESPN The Magazine, Paper magazine, Entertainment Weekly, and Condé Nast Traveller, among many others, and the best of his portraits and fashion photographs are featured in his first book Chasing Beauty (2010). His prints have been collected by, among others, Anderson Cooper, Francis Ford Coppola, and Bill Clinton. Born and raised in western Canada, Phibbs has received degrees from the University of Toronto and Parsons School of Design. Phibbs lives in New York City with his own rescued buddy, Finn. To learn more visit
About Sandra DeFeo
Sandra DeFeo has been Executive Director of the Humane Society of New York since 1993. Before that time, Sandra volunteered for the Society in its'​ adoption department and for the Society's events. In her capacity as Executive Director, Sandra oversees all aspects of the Society's programs, including hospital and shelter operations and public outreach. Ms. DeFeo works tirelessly seven days a week​, 24 hours a day,​ to ensure that all of the animals the Society is privileged to help receive quality care and the best possible treatment. Sandra lives in NYC with one dog and three cats that she adopted from the Humane Society of New York. To learn more visit
Moderated by Anant Shukla.
Category
Post your comment